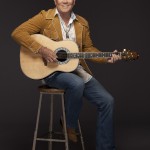 CMA kick starts 2012 CMA Music Festival on Wednesday, June 6 with The Eighth Annual CMA Music Festival Kick-Off Parade at 11:00 AM/CT, followed by The Seventh Annual CMA Music Festival Block Party at 12:30 PM/CT.
Country icon Glen Campbell will be the Grand Marshal for the Parade. Campbell last performed at CMA Music Festival in 2004. He has received two CMA Awards, including CMA Entertainer of the Year (1968) and Male Vocalist of the Year (1968), and was inducted into the Country Music Hall of Fame in 2005. Last year, Campbell announced he had been diagnosed with Alzheimer's disease. Since then, he released his final album, the critically-acclaimed Ghost on the Canvas, and is in the midst of his successful Goodbye Tour.       
"Last year more than 16,000 fans lined Broadway for the Parade and with our beloved Glen Campbell as Grand Marshal this year we are expecting even more people to come out and show their support and love for this iconic Country Music figure," said Sheri Warnke, CMA Senior Vice President of Communications and Marketing.
The Eighth Annual CMA Music Festival Kick-Off Parade will launch from Tenth Avenue on Broadway and end at Riverfront Park, site of the Chevrolet Riverfront Stage (First Avenue). One of the most popular features of the parade is the 40 Country Music artists riding in a wide variety of Chevrolet vehicles including vintage Corvettes.
Platinum-selling Country group Little Big Town has a different mode of transportation planned for the Parade. In support of their new single "Pontoon" each member of the group, Karen Fairchild, Kimberly Schlapman, Phillip Sweet, and Jimi Westbrook, will be riding on four different Premier pontoon boats alongside lucky fans.
"What could we do for the fans that would be unique? Well, we can ride them around on a pontoon at the CMA Festival Kick-Off Parade!," said Fairchild. "After the parade we'll have the honor of kicking off the Block Party at the Riverfront Stage singing 'Pontoon.' It's a good way to start CMA Fest, don't you think?"
Little Big Town will be performing as part of the LP Field Festival lineup on Saturday, June 9. The group has received a career total of nine CMA Award nominations to date. The foursome recently recorded "Deep River Woman" with Lionel Richie for his current album Tuskegee, which hit the No. 1 spot on the Billboard Top 200 albums chart. Little Big Town's fifth studio album, produced by Jay Joyce, will be released later this year and features the first single, "Pontoon," which is at radio now.      
With Campbell as Grand Marshal, other artists are lining up to participate in the Parade including Bill Anderson, Lynn Anderson, Katie Armiger, Craig Wayne Boyd, Weston Burt, Craig Campbell, Bucky Covington, Cowboy Troy, Ira Dean, Jaida Dreyer, Due West, Tyler Farr, Florida Georgia Line, Flynnville Train, Colt Ford, The Grascals, Greg Hanna, Amber Hayes, Angie Johnson, Little Big Town, LoCash Cowboys, Rachele Lynae, Manuel, The McClymonts, Randy Montana, Lorrie Morgan, Craig Morrison, The Oak Ridge Boys, Chase Rice, Marlee Scott,  Matt Stillwell,  Payton Rae, David St. Romain, The Roys, Jason Sturgeon, Trent Tomlinson, Trailer Choir,  Rhonda Vincent, and Corey Wagar.